Belt Holster
Our most popular holster.This holster has a speed cut for an ultra fast presentation, and ease of re-holstering. Twin tension screws, allow for precise retention adjustment. Excellent for daily carry, practice, and competition. It is also available with different cants.
*NOTE: (If ordering for a revolver,please specify barrel length. Large frame revolver holsters come with our new SR belt loop for better stability. Available also with TekLoc.
Base price $60.00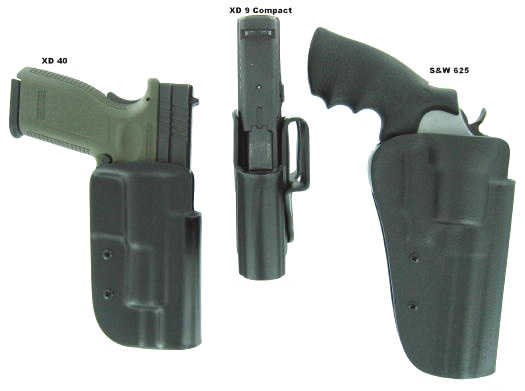 Sting Ray Belt Holster
Now our most popular holster comes with our new (Sting Ray) belt Attachment. This attachment is wider than our standard belt attachment, thus providing a more stable platform, also being wider it tends to pull the gun in closer to the body, aiding in concealment. With the SR loop this holster can be adjusted from Straight Drop, to FBI cant to muzzle forward with just your standard screwdriver.This Belt holster is interchangeable with our paddle, Tek-Lok, Drop and Offset loops. Available in 1.25, 1.5 and 1.75 at this time. IDPA Approved

Base Price $60.00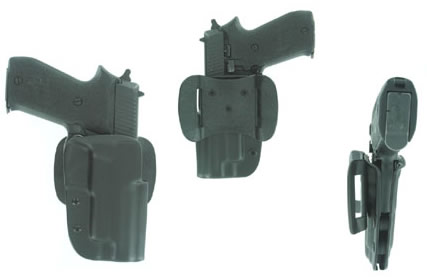 Dropped and Offset Holster
This holster provides an extremely comfortable ride as it is "offset" from the hip to allow for a greater degree of outward cant, allowing for the grip of the pistol to be positioned away from the body and aligning the pistol in a vertical position for more positive indexing. This holster also features a "drop" which lowers the placement of the pistol for an easier reach as the arm can remain more extended as compared with using a belt level holster. This holster is very popular for range work and is also perfect for women's contours.
Base price $60.00