Vltor Products

Forend Folding-Carbine Stock Fixed-Rifle Stocks Light Mount Accessories
Vltor
Four Position Butt Stock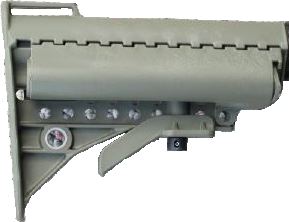 Available in black, OD and Coyote tan on most models
Model# ACK-2ST shown

Carbine Combo Modstock Kits
Carbine/collapsible Modstock
Model# ACK-2ST shown Complete Combo-kit with two Long Accessory Compartments, two Cheek Weld Adapter and QD Sling Swivel.
Kit includes: 5-position Receiver Extension, Buffer, Spring, Receiver Lock-Plate and M4 Lock Nut. Standard Models

Price $179.95

Standard Models
Model# ACK-2S (Black)
Model# ACK-2ST (Tan)
Model# ACK-2SG (Green)

Clubfoot Models
Model# ACK-2C (Black)
Model# ACK-2CT (Tan)
Model# ACK-2CG (Green)

Model# ACBK-2CT shown

Carbine/collapsible Modstock
Model# ACBK-2CT shownCombo-kit with two Long Accessory Compartments, but minus Cheek Weld Adapter and QD Sling Swivel.
Kit includes: 5-position Receiver Extension, Buffer, Spring, Receiver Lock-Plate and M4 Lock Nut. Lock-Plate and M4 Lock Nut.

Price $159.95

Standard Models
Model# ACBK-2S (Black)
Model# ACBK-2ST (Tan)
Model# ACBK-2SG (Green)

Clubfoot Models
Model# ACBK-2C (Black)
Model# ACBK-2CT (Tan)
Model# ACBK-2CG (Green)


Model# ACM-2SG shown

Carbine/Collapsible Kits
Carbine Modstock
Model# ACM-2SG shown with two Long Accessory Compartments, two Cheek Weld Adapters and QD Sling-Swivel. Standard Models

Price $119.95

Standard Models
Model# ACM-2S (Black)
Model# ACM-2ST (Tan)
Model# ACM-2SG (Green)

Clubfoot Models
Model# ACM-2C (Black)
Model# ACM-2CT (Tan)
Model# ACM-2CG (Green)


Model# ACB-2S shown

Carbine Modstock
Model# ACB-2S shown with two Long Accessory Compartments, but minus Cheek Weld Adapters and QD Sling-Swivel. Standard

Price $99.95

Standard Models
Model# ACB-2S (Black)
Model# ACB-2ST (Tan)
Model# ACB-2SG (Green)

Clubfoot Models
Model# ACB-2C (Black)
Model# ACB-2CT (Tan)
Model# ACB-2CG (Green)

Model# ARM-1CT shown

Rifle A1 length Modstock

(5/8-inch shorter than A2 the model)
Each kit contains two Rifle length Accessory Compartments and Cheek Weld Adapters. Also includes a QD Sling Swivel and the needed hardware to mount to either the Rifle or Carbine/collapsible Receiver Extension.

Price $119.95

Standard Models
Model# ARM-1S (Black)
Model# ARM-1ST (Tan)
Model# ARM-1SG (Green)

Clubfoot Models
Model# ARM-1C (Black)
Model# ARM-1CT (Tan)
Model# ARM-1CG (Green)
Retail Price: $119.95

Model# ARM-2S shown

Rifle A2 length Modstock


(5/8-inch longer than the A1 model)
Each kit contains two Rifle length Accessory Compartments and Cheek Weld Adapters.
Also includes a QD Sling Swivel and the needed hardware to mount to either the Rifle or Carbine/collapsible Receiver Extension.


Price $119.95


Standard Models
Model# ARM-2S (Black)

Clubfoot Models
Model# ARM-2C (Black)
Model# ARM-2CT (Tan)
Model# ARM-2CG (Green)
Vltor Forend
The CASV-EL


This system has a removable lower handguard which accepts a M203 grenade launcher. At this time, we offer only the Extended Length model, which was specifically developed for the M4 carbine or the CQB (10.3-inch barrel) configured flat top upper receiver assemblies. The CASV-EL was designed and manufactured solely for the US Navy. After supplying a number of Navy contracts, we now offer this system to the Civilian sector.
Each handguard comes with the following items:
Qty.1 6-inch Accessory Rail
Qty.2 4-inch Accessory Rail
Qty.2 2-inch Accessory Rail
Qty.11 10-32 x 1⁄2 Flathead Hex Drive Screw
Qty.2 Hex Wrenches for Mounting Clamp and Accessory Rail Installation.

Price $284, $10 more for tan or green models.



Accessories
Scout Light Mount

The Scout Mount is a Quick Detachable rail mount for certain SureFire™ flashlights. Installation is simple and the mounting is solid.
Scout Mounts are available for C, E and G-series SureFire™ flashlights. Scout Mount for the C-series (classic) flashlight, which will only fit the knurled surfaces of the C-series SureFire™ flashlight body.

E-series Scout Mount
Model# SM-E
Flashlights widths:
0.810 - 0.826 inches
MSRP $34.95

G-series Scout Mount
Model# SM-G
Flashlights widths:
1.025 - 1.040 inches
MSRP $34.95

C-Series Scout Mount
Model# SM-CK
Flashlights widths:
1.010 - 1.026 inches
MSRP $34.95

Single Attachment Sling Endplate

Made for Right and Left handed operators, Vltor now offers an Ambidextrous Single Attachment Sling Endplate (SASE). These sling plates are a direct replacement to your existing receiver endplate. Two models are available; one accepts a 1 1/4-inch slings and the other accepts an HK-type hook/carabineer. Choosing the right or left hand placement is easy; just simply install the indexing washer and screw, which interfaces with the rear of the receiver. It so simple, you wonder why no one thought of it before!

1 1⁄4-inch sling
Model# SASE-1
MSRP $19.95


HK-type Loop
Model# SASE-2
MSRP $19.95


AK47/AKM/AKS Stock Adapter and Extension

The Adapter and Extension Combo is a direct replacement for the standard fixed AK-type stock. With this adapter installed, the user will have five stock positions, a watertight storage compartment that is accessible from the rear and an ambidextrous single-point sling mount, located near the firearm's receiver. This kit is the adapter/extension only, stock or QD sling-swivel not included. Will fit sheet metal AKM variants only, except the Yugo or the Iraqi Tabuk. The Adapter/extension has a MilSpec outer profile and will only accept Colt or Vltor dimensioned buttstocks.

Model# RE-47
MSRP $89.95

Slip-over Rubber Buttpad

This Rubber Buttpad slips over all (Clubfoot and Standard) Vltor Modstock buttplate. Available in two colors Black and Dark OD Green.

Model# AMB-1 (Black)
Model# AMB-2 (Green)
MSRP $19.95

Quick Detachable Sling Swivel

1 1⁄4-inch large push-button sling swivel. This sling swivel will attach to all Modstock variants as well as to the AK47 Stock Adapter (RE-47).

Model# QDS
MSRP $14.95